Happy 44th Birthday, Aaliyah!
Photo: Christopher Kolk
Today, Aaliyah Dana Haughton would have been 44 years old. 22 years ago, we lost the R&B sensation when the plane she was on crashed at the Marsh Harbour Airport on the Abaco Islands, Bahamas. Sadly, the singer was only 22-years-old.
Even though she is no longer with us on earth, her memorable spirit is still something many fans adore and miss. With her girl-next-door charm, baggy pants and unforgettable signature quirks like the soft swoop bang over her eye, she was definitely a leading artist reigniting the charge for women in R&B.
The Brooklyn-born, Detroit-raised singer got her first taste of the spotlight after appearing on Star Search at age 10. By 12, she signed her first record contract with Jive, and released her first album, Age Ain't Nothing but a Number, which sold three million copies and went double platinum.
Her second album (on which she worked with Timbaland and Missy Elliot), One in a Million, sold 8 million copies worldwide. The single 'Try Again' from that record earned her a Grammy nomination.
She then began acting, first in Romeo Must Die, for which she also sang on the soundtrack, and then Queen of the Damned.
Her third and final album, the eponymous-named Aaliyah, was released in July 2001 - the month before she died.
Aaliyah spent a considerable amount of time in the spotlight and under the scrutiny of the public eye, there are still some things that many people don't know.
Check out 10 things you probably didn't know about Aaliyah.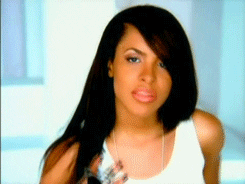 Number Ten: She Sang for the Homeless
Aaliyah's father ran a homeless shelter, and when she was a child she would sometimes go to the shelter and sing for the people there.
Number Nine: She Auditioned for Family Matters
It's true! In 1989, she decided to audition for a role on the show. Just imagine her next to Urkel!
Number Eight: She Lost Star Search
A young Aaliyah appeared on the show in 1989. She sang "My Funny Valentine" in an inspiring performance; however, she ended up losing and even cried as a result of her loss.
Number Seven: She Had a Special Way to Let People Know She Was Annoyed
While working on the set of Romeo Must Die, Aaliyah would let her team know she was annoyed by bending the tip of her index finger. She would often do this around one of the production assistants on the film who particularly got on her nerves.
Number Six: She Had a Bodyguard in High School.
The singer attended high school in Detroit and had gained quite a bit of fame before she graduated. Because of her celebrity status, she opted to have a full-time bodyguard with her while she was still in high school.
Aaliyah and her Bodyguard
Number Five: She Was Smarter Than Most People Think
And, in fact, she graduated high school with a 4.0 GPA.
Number Four: And She Impersonated Christina Aguilera
Aaliyah was friends with Kidada Jones, the daughter of Quincy Jones. The two decided to play a prank on Quincy by calling him and pretending to be someone else. Aaliyah decided to impersonate Christina Aguilera, and her impression was so good that Quincy actually thought it was Aguilera!
Kidada Jones was Aaliyah's best friend, Quincy Jone's daughter and the fiancé of Tupac Amaru Shakur.
Number Three: Aaliyah Tried to Emulate Veronica Lake
Following advice her mother gave her. The singer used her hair to cover her left eye when she switched up her hairstyle, similar to famous Hollywood vixen Veronica Lake.
Number Two: She Had an Interesting Bet With Missy
The singer was friends with Missy Elliot, and the two were known for never wearing dresses. Because of their aversion to dresses, they made a bet with each other about who would be seen wearing a dress first.
Number One: Matrix and Honey
Aaliyah was set to star in "Honey," but the role went to Jessica Alba after the singer died. Aaliyah was also supposed to have a role in the "Matrix: Reloaded.
MORE NEWS & STORIES