Happy 56th Birthday, Dr. Dre!
Photo: Eric Ray Davidson
Dr. Dre coined the West Coast rap like no other, spotting Eminem and 50 Cent, boasting of being one of hip-hop's billionaires. In February 2021 he celebrates his 56th birthday.
Check out 15 Things You Didn't Know About Dr. Dre!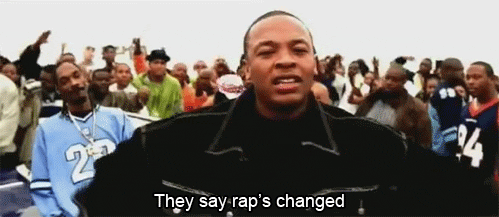 Number Fifteen: He Was in an Electronic Funk Group.
Before Dr. Dre was part of NWA, he was part of a group called World Class Wreckin' Cru. World Class Wreckin' Cru was originally called Disco Conjunction, and they played electronic funk music!
Number Fourteen: His Step-Brother Is Famous, Too. 
Dr. Dre's step-brother is rapper and producer Warren G. The two became step-brother's after Dr. Dre's mother married Warren G's father.
Number Thirteen: The Man Can Act.
Dr. Dre has played roles in several major films. He played a small role in Set it Off, Training Day, was a voice in a 2005 video game, and he was the lead in 2001's The Wash with Snoop Dogg. The film centered around two friends who work at a car wash together.
Number Twelve: He Was Almost an Abortion. 
Dr. Dre's mother, Verna Young, had him at the young age of just 16 years old. While her family and friends insisted she get an abortion, she decided not to and continued on with the pregnancy. All things considered, we think everything turned out OK for both Dr. Dre and his mother.
Number Eleven: His Son Raps, Too. 
Dr. Dre had a son when he was just 17 years old, and he didn't meet his son until he was 20. Dr. Dre's son is also a rapper, and he goes by the name Hood Surgeon.
Number Ten: He Used to Go By Dr. J. 
Before he was Dr. Dre, he was Dr. J. This was a nod to one of Dr. Dre's favorite basketball players, Julius Erving. He then changed his name from Dr. J to Dr. Dre to commemorate his own name, Andre.
Number Nine: He Earned $20 Per Second in 2014. 
Yes, you read that right! Thanks in large part to his Beats by Dre fortune, it was calculated that Dr. Dre earned an impressive $20 every single second for a year.
Number Eight: Dre Is Not Exactly a Doctor. 
Though Dre has made some brilliant business decisions, he has also had several major brain farts. When Dr. Dre first heard about Eminem, he had no idea that Eminem was white.
Number Seven: He Got His Middle Name From Music. 
Dr. Dre's father was in a band called The Romelles. Dr Dre's middle name is Romelle, which he got from his father's R&B group. How sweet!
Number Six: He Made More Money Listening to Music Than He Ever Did Making It. 
Thanks to the huge success of the sale of Beats to Apple, Dr. Dre has made more money from his headphones than he did by making music. Beats was sold to Apple for a whopping $3.2 billion.
Number Five: He Is Admired by Kanye.
According to Kanye, Dr. Dre's album, The Chronic,
"... is still the hip-hop equivalent to Stevie Wonder's Songs in the Key of Life. It's the benchmark you measure your album against if you're serious."
In 2019 Kanye West nearly broke the internet when he posted a photo of himself with Dr. Dre in the studio teasing that they would be teaming up to working together on the Jesus Is King sequel.